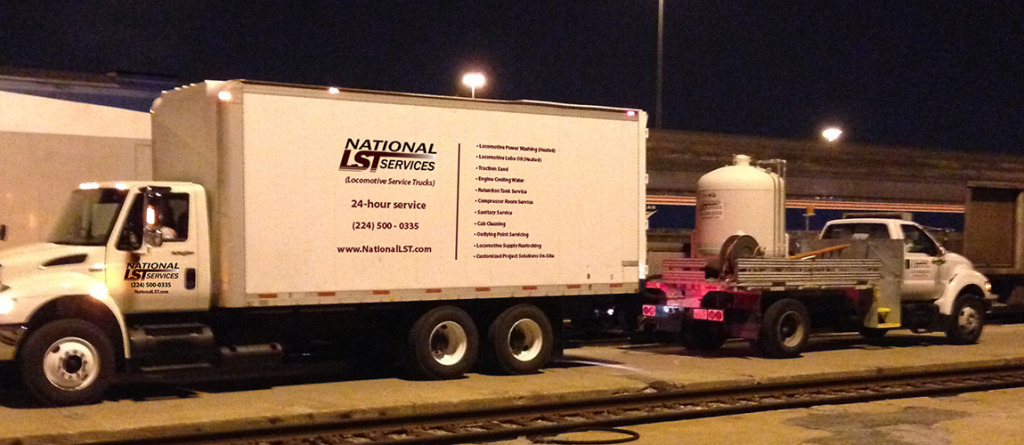 National LST Services provides the quality service our customers expect. Our goal is to become the leading locomotive service provider by offering customized LST services to meet our customers needs.
National LST Services is an environmentally friendly company, just like you. We custom built our state-of-the-art locomotive service trucks (LST's) with four layers of protection from oil and septic spills, ensuring ZERO spills in any rail yard.
We are proud to offer the following services –
ON-PROPERTY WET HOSE FUELING

Our 4,000 gallon locomotive diesel fuel truck can take your fuel from the loading station direct to your locomotives, in even the most confined areas. Our no-spill Snyder nozzle can pump over 90 gallons per minute to reduce dwell time. We can use your fuel or we can supply the fuel for you. On-site reporting immediately after fueling.

LOCOMOTIVE TRACTION SAND

Our variety of custom designed locomotive service trucks can get any place, any time and pump sand faster and safer to get your locomotive on the move. Your sand or ours - it's all about the most convenient, cost-effective and safest solution for you.

LOCOMOTIVE ENGINE LUBE OIL (HEATED)

Our state-of-the-art, custom designed service trucks can reach any locomotive, anywhere. National LST Services is on time, 24/7/365. We can use your oil or we can supply the oil for you. The air eliminator on our oil meter ensures the most accurate measurement of oil pumped into your locomotive.

LOCOMOTIVE COOLING WATER

With our high capacity of 600 gallons, we can power-fill your locomotive to prevent unnecessary downtime.

SEPTIC/TOILET SANITARY SERVICING

We provide complete toilet service including discharge and recharge.

CAB AND WINDOW CLEANING

We clean inside and out - including windows, sanitize dashboards, sweep floors, remove garbage, and make sure to keep all walkways free and clear of unsafe debris and obstacles.

FRA DAILY INSPECTIONS

To ensure your locomotives are safe and compliant with all regulations, our trained staff will perform all daily inspections.

BRAKE SHOE REPLACEMENT AND AIR BRAKE TESTING

We can perform all needed tests, replacements and repairs.

HEAD LIGHT/DITCH LIGHT/STEP LIGHT REPLACEMENT

We can replace and repair all lights.

COMPRESSOR OIL

We monitor all fluid levels and add needed oil.

CAB SUPPLY RESTOCKING

Our technicians will restock your cabs with first aid kits, crew packs, garbage bags, fuses, sanitary wipes, water and ice.

LOCOMOTIVE & CAR POWER WASHING (HEATED)

National LST Services will power wash your locomotives, compressor room, engine, retention area, retention tank and undercarriage to remove debris and preserve your locomotives and equipment for efficient operations.

COMMUNICATIONS NETWORK

We consider communication a top priority in running a smart, effective business for both field operations and office personnel, to make sure all services are done on time every day. We hold daily briefings with our drivers and technicians on all projects and products.

CUSTOM ON-SITE PROJECT SOLUTIONS

With the most cost-efficient service trucks and fully trained technicians, we can design personalized solutions for you, with safety in mind.

OUTLYING POINT SERVICING

Your locomotives can't always make it to a diesel shop for servicing. We bring the service to you.

AVAILABLE 24 HOURS A DAY, 365 DAYS A YEAR

National LST Services is ready to provide service for YOU!